Here's the data you requested.
A new survey by the Pew Research Centre of 40,447 people in 37 countries shows that trust in Mr Trump pales in comparison with Barack Obama's final ratings. Whereas 64% of those surveyed had confidence in Mr Obama to do the right thing, just 22% are similarly optimistic about his successor, whom they described as "arrogant" (75%), "intolerant" (65%) and "dangerous" (62%). Citizens in Western Europe put no more stock in Mr Trump—who took office just five months ago—than they did in George W. Bush, the architect of the highly unpopular war in Iraq, when he limped out of the White House in 2008. Respondents' approval rating for America overall has also slumped, from 64% to 49%.
There is one interesting outlier here. Guess which country it is!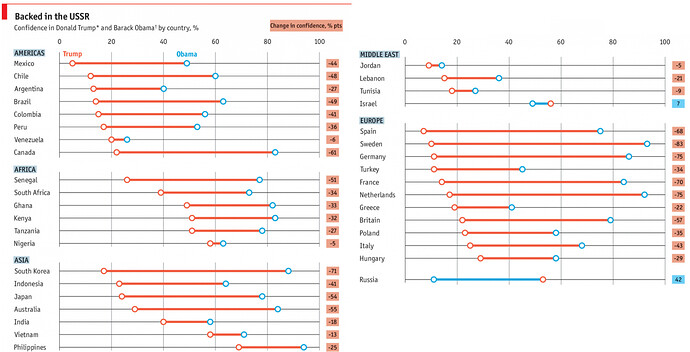 Trump is terrible for America, but fantastic for China. I expect them to take full advantage.